This writing pavilion is designed to experience natural features with artistic expression to foster creative imagination. Spontaneous curvature forms a mushroom shape as like it naturally grows in the open field. This natural curve causes soothing impression and thus enkindle intuitive thoughts.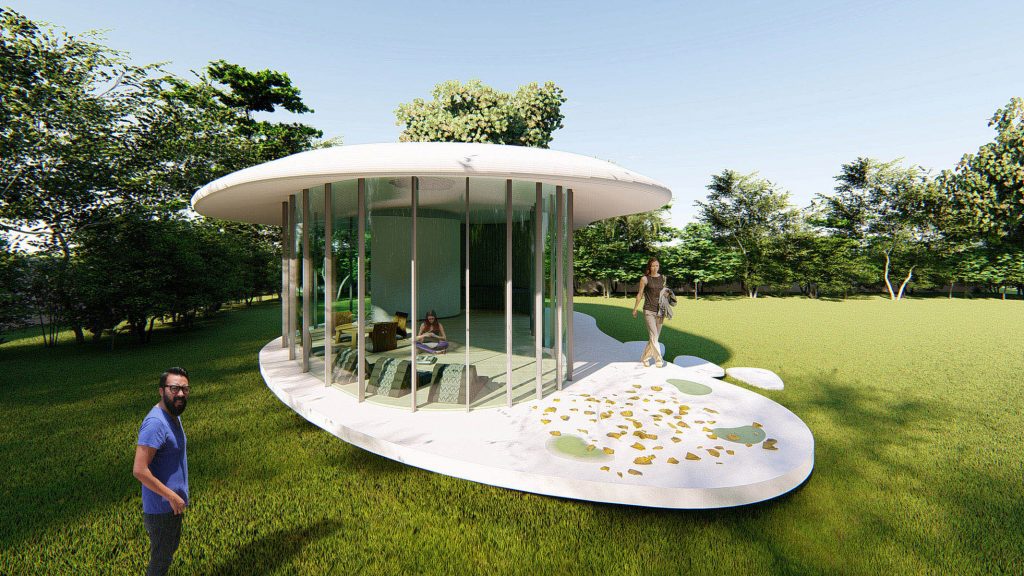 The structure is located on an open field surrounded by different trees and plants. This makes opportunity to have splendid view towards the open areas, a perfect place to contemplate, write or just relax, silently spend few moments with nature.
Roof top is covered by green grass that cuts down the dominancy of the unusual shape. Center of the roof is punctured by a cluster of shiny circular members. Sun light or moon beam enters inside through those shinny hollow making a glittering experience at interior space.
Extended plinth creates a floating impact while hosting casual seating for the users. Full height glass assures panoramic view of the surrounding landscape hence blurring the feelings of outside & inside. One can observe the changing path of the sun and the moon; enjoy the rain or cool breeze. Just simply watch the conversation among the natural elements.